At Levin Orthodontics we spend a lot of time talking about how important orthodontics is to the health of your teeth and mouth. And it's true! Orthodontic treatments make a huge difference in the longevity of your smile, as it helps align the jaw and prevent tooth damage and decay. We will always be here to keep our patient's smiles healthy and help them maintain those healthy teeth even as they age. 
But there's a whole other side to orthodontics, and that's the cosmetic side! One of the fantastic outcomes of aligned teeth and jaws is a beautiful, straight smile that our patients are excited to show off. There's no shame in aiming for a gorgeous grin along with healthy teeth. 
Cosmetic orthodontics refers to both the reason for getting treatment, as well as the methods we use to treat our patients! If that is something you have been interested in, keep reading to learn more about how Levin Orthodontics can support your cosmetic orthodontic journey.
Why Some People Opt for Cosmetic Orthodontics
We often have people who come into our office after years of feeling self-conscious and insecure about their smiles. A smile is one of the first impressions we share with the world, so of course it matters how it appears! You don't want anything to hold you back from sharing your authentic smile with the world.
Dr. Levin would be happy to meet with any patient who has concerns about their appearance and would like to use orthodontics to reach their smile goals. Whatever the issue, whether with the tooth size, spacing, shape, or the bite and jaw, we can find a fix that suits you, your lifestyle, and your unique needs.
Cosmetic vs. Functional Orthodontics
Some patients want to prioritize efficiency, cost, and convenience when it comes to their orthodontics. This is what we call functional orthodontics which focuses purely on the mechanics of shifting and adjusting your smile. This might include braces, rubber bands, headgear, palatal expanders, and more.
Others people are more concerned with the cosmetics components of their treatment. It only makes sense that adults and teens who are at work and school all day would like to appear put-together and professional. Traditional metal braces can often come off as adolescent or unprofessional in some settings, and many people like to make a more discreet and cosmetic treatment a priority. 
The good news is that there are so many different orthodontic treatments these days that it is nearly impossible to avoid finding one that works for you! You deserve to get all the functional results with an appearance that makes you confident throughout treatment.
Cosmetic Treatment options
Lightforce Clear Braces
While some patients hope to avoid braces altogether, sometimes it simply isn't an option. Depending on the issues with the teeth and jaw, occasionally braces are necessary to make the big shifts that are needed to align the teeth properly. In these circumstances, Lightforce Clear Braces are a great alternative to metal braces. 
These 3-D printed brackets will give incredible precision to the alignment process, and their tooth-colored ceramic will render them almost invisible! They are also lighter, smaller, and typically more comfortable than regular braces. We love recommending them to patients who want a discreet orthodontic experience. 
Inbrace Hidden Braces
Inbrace hidden braces are unique to all other options because they are actually invisible! They are placed on the inside of your teeth and align your teeth without ever being seen. This is another great option for those who would rather avoid clunky or obvious orthodontic options. You also won't have to worry about staining your clear braces, or removing and cleaning trays like with Invisalign!
Invisalign Aligners
Invisalign is one of the most popular cosmetic orthodontic treatments because it can be effective for so many different people, and are nearly invisible and convenient to care for. Invisalign works using clear plastic trays that are placed over your teeth and are designed to slowly shift your smile over the course of weeks and months. Typically one tray will be worn for a week or two, and then removed and replaced by another that will shift your smile more into alignment.  
The removable trays must be worn diligently, so only patients who are mature and responsible enough to remember to wear and care for them should go with Invisalign. Trays should be worn at all times except when eating and drinking and stored safely when not worn. They also need to be brushed well every day to keep them clean. Aside from these simple maintenance procedures, Invisalign is a popular alternative to braces as they are efficient, nearly invisible, and often similar in cost!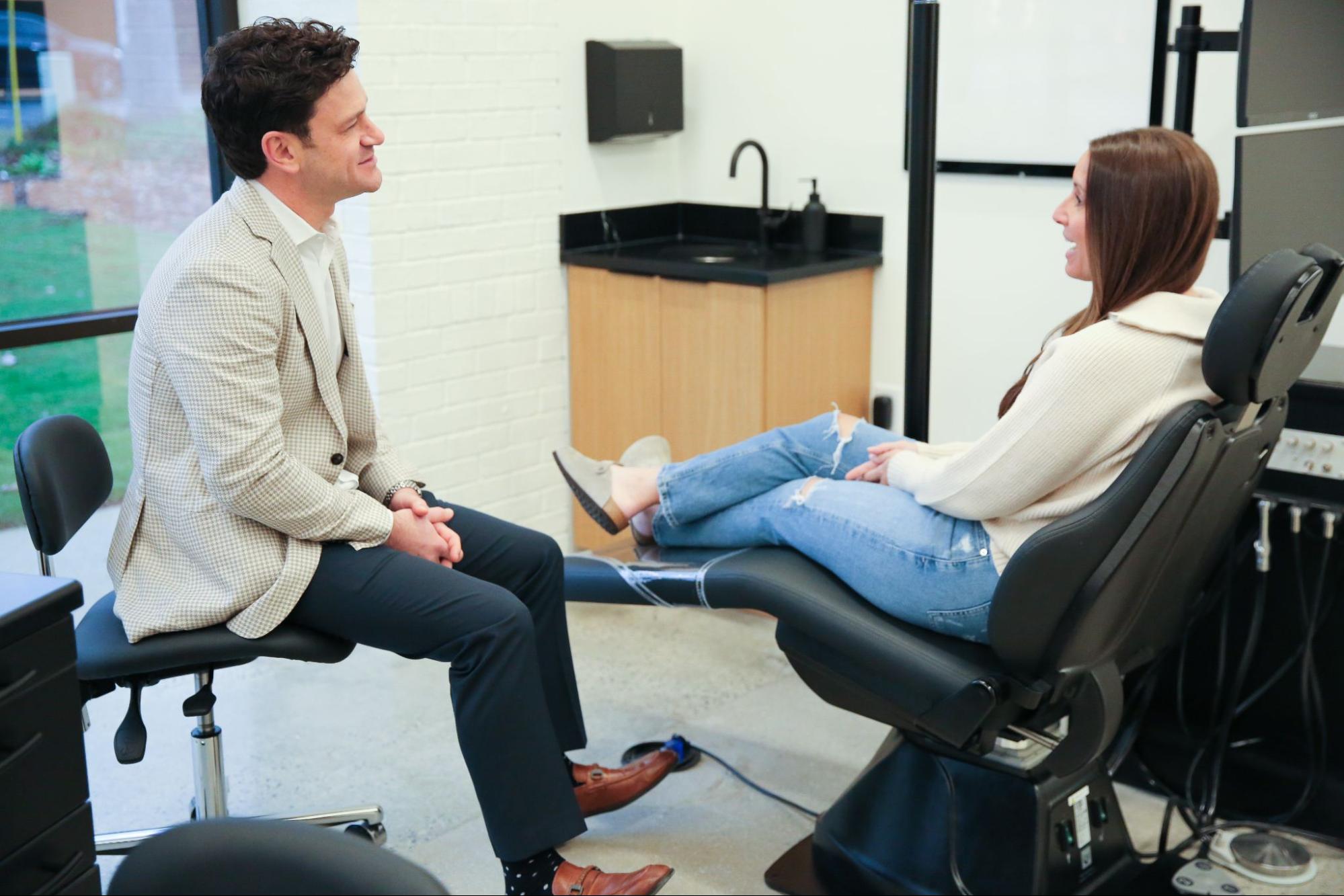 Discover Your Best Smile With Levin Orthodontics
Are you still considering orthodontics and aren't sure which method will work for you? Give Levin Orthodontics a call to get started! Our first consultation appointment is free, and it's a great opportunity to discuss your options and see what might fit your unique needs and lifestyle! Come visit our offices in Marietta or Sandy Springs at your soonest convenience, we can't wait to have you here!