Straighten your smile on
autopilot.
InBrace gives you the only invisible way to a better smile because Dr. Levin places your brackets on the backs of your teeth.
Levin Orthodontics is Cobb County and East Cobb's first provider of this advanced option.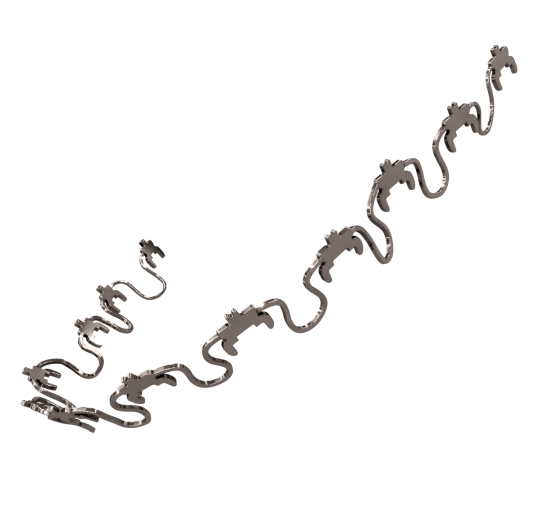 What is InBrace?
Created by orthodontists, the InBrace Smarwire uses advanced computer modeling and AI to move your teeth in a way that's fast, healthy and completely under the radar.
No wires or trays — just results.
The smartwire.
Nothing is more aesthetic. Your personalized Smartwire is placed behind your teeth so only you and Dr. Levin know you're putting in work.
Autopilot.
Personalized Smartwires from Levin Orthodontics apply gentle, continuous force, essentially putting your treatment on autopilot.
Gentleforce technology.
Gently and efficiently moves your teeth into place based on your provider's treatment plan.
Better oral hygiene.
No metal mouth. No visible stains. No dozens of trays. No shoving your hand in your mouth to remove aligners. No losing aligners.
Toothprint.
Dr. Levin will scan your teeth and create 3D images to personalize your Smartwire for predictable results.
CoDesign.
InBrace will customize your Smartwire based on the treatment plan Dr. Levin creates for you. Your teeth will start to move effortlessly into place like your treatment is on autopilot.
Fitting.
Dr. Levin places your custom InBrace Smartwire behind your teeth, so you can show off your natural smile as soon as you leave our office in Marietta or Sandy Springs!
Who is InBrace for?
InBrace treats all types of malocclusions from simple to complex cases, InBrace straightens teeth without embarrassing wires or inconvenient aligners.
Instant confidence.
You'll start seeing results as soon as two weeks. Get ready to love looking in the mirror — or any reflective surface for that matter (we won't judge!).
Autopilot = more you time.
We love Dr. Levin, but there are more important things to be doing. Your Smartwire starts moving your teeth gently into place from day one —like autopilot. So you can do more stuff and less treatment stuff.
Eat normally.
With no messy trays to pop out before you indulge, you can eat whenever you want.
Coffee? Tea? Sip away.
Start your day with a big ol' cup of joe or your favorite tea. With nothing to remove, your treatment continues working while you drink.